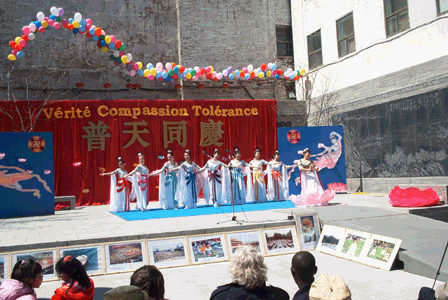 Falun Gong 10th Anniversary Festival in Chinatown Park, Montreal
Saturday May 11, 2002
Statement by Carmen Colombo from wowzone.com
It's an honor for me to be here today. Thank you.
I first heard about the persecution of Falun Gong practitioners in April 2001. I received an email explaining what was happening in China, and it was so grotesque that I thought it was a hoax. So I did some research, and I asked some colleagues what they knew about Falun Gong. It turned out that very few people were aware of your plight, so we decided to post the letter on the site.
Then, in June, I received another email about a young lady from Montreal who was being detained in China. This hit home, and the story of Zhu Ying was closely followed and updated on our site, until her release. When she returned, we met, became friends, and even went to the Father John Walsh Show on CJAD AM Radio Montreal, to tell Montrealers first-hand accounts of the human rights abuses in China.
We then decided to create a full section for Falun Gong on WOW Zone which is updated regularly.
This year, in February 2002, we were thrilled to help release Shenlin Li, also from Montreal, who was in a labor camp in China for two and a half years.
We will continue to be with you and do whatever we can to help until everyone is released.
Congratulations on your noble virtues: Truth, Compassion, Forbearance.
If everyone lived by that, it would be a different and better world.
Thank you again for inviting me, and God Bless you all.