A Pollution Free Energy System
The speed is controlled by the use of P.M. magnets in one field and D.C. magnets in the other. In figure 1 (the magnetic fields), an opposing force is created. This force is applied to the Wheel assembly, (in figure 2.) with the use of two shafts, (one inside the other), and a lever on the end of each shaft, so as to apply the force to the wheel assembly at the proper place. The wheel assembly pivots on the output crank, and causes it to turn.
The wheel assembly is held in relation to output crank, by the wheels, running on the inside surface of the wheel housing.
The magnetic fields and the wheel assembly turn together. (same direction, same rpm.)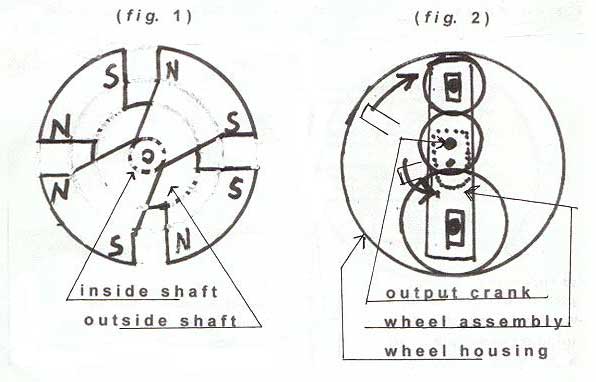 We received this on September 1st, 2002. I had no idea what it was. I sent it to my partner, who knew exactly what it was...as do many of you, I'm sure.
I also wrote to the person who sent it to me, and although he wishes to remain anonymous for now, this is our correspondence:
~~~~~~~~~~~~~~~~~~~~~~~~~~~~~~~~~~~~~~~~~~~
Hello,
Can you please explain this to me and tell me if you want us to post it on wowzone.com?
Thanks and best wishes,
Carmen
~~~~~~~~~~~~~~~~~~~~~~~~~~~~~~~~~~~~~~~~~~~
REPLY:
First I will give you the history on it.
I have been looking for a way to create Power and Electric, since I started as a mechanic back in 1949. The company I worked for sent me to school on Electric standby Generators, I started on This design in 1986.
Yes I sent it internationally. I offer this to the world. For FREE to any one that wants to use it. (first come first served ). I am 75 years old, and with my health, I may not get to see it completed.
It is different in operation than anything today. But it is very simple if you study it.
I will add, that this is described in the Old Testament, in Ezekiel Chapter 1 and is promised for the Latter Days. So you see, It is not mine.