Destiny Files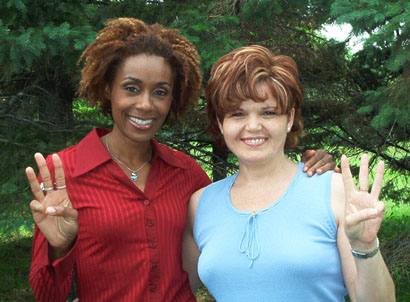 Rosey Edeh and Carmen Colombo
August 14, 2003
Thursday August 14th was the first day of shooting of the "Destiny Files". I was honored to be the first guest for this series that will be aired at an undetermined date on Global TV. The beautiful and dynamic Rosey Edeh is the host. If you're wondering where you saw her before, think Olympic Medallist, Motivational Speaker, Columnist, CNN anchor and more recently, CFCF Entertainment News. The Destiny Files enables her to use all of those accomplishments into one package.
The Destiny Files is about how one particular moment or decision can change the course of your entire life. If you read the story behind WOW, you can understand why I was asked to be one of the guests. Like the phoenix, I rose from the ashes of a destructive time in my life, and turned the experience into a beacon of hope for myself and for others. And my story is just the beginning...
By all indications, the show will be a smashing hit. Talking with, and watching Rosey is like catching up with a good friend. She is fun, compassionate, vibrant and understanding, and the stories that she investigates are varied, interesting and memorable. And just wait until you see her style!
I also want to thank the entire crew. They were extremely kind, friendly and professional. They really enjoy their job, and it shows. Their collective goodwill and the refreshing idea of this show will most certainly make you a fan!
Stay tuned for news about when the Destiny Files will debut!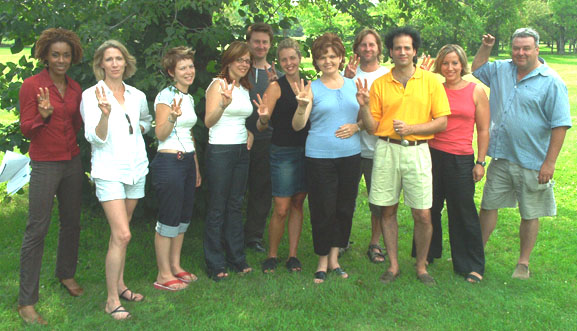 The Destiny Files, August 14, 2003
Photo, left to right:
Rosey Edeh, Host; Blond Lady, Researcher; Claudie Paquin, Make-up; Rachelle Bergeron, Researcher; Mathieu Amadei, Production Supervisor; Mylène Paquin, Production Coordinator; Carmen Colombo, wowzone.com; Serge Richard, Production Assistant; Tony De La Penta, Director; Caroline Phaneuf, Reporter; François Proulx, Soundman.
---