Tribute to a Friend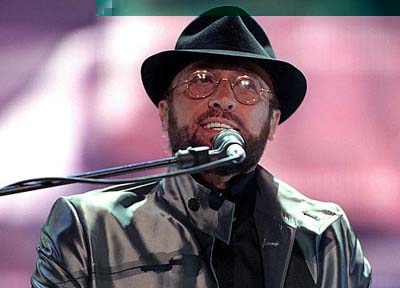 (AP 1998 PHOTO/MICHAEL CRABTREE)
Maurice Gibb
December 22, 1949 - January 12, 2003
I returned home to Montreal from South Florida on Thursday afternoon, January 16th 2003. I was in Hallandale, Hollywood, Aventura, and surroundings for 2 weeks. A long overdue vacation, it was a terrific change of scenery and lifestyle that did a world of good for me.
It was the first time in years that I actually didn't hear, read, or see anything negative. The only thing I listened to was fantastic, eclectic music, from opera to latino, and the sound of voices of people who love me, and spoiled me to no end. I was a guest at my brother's penthouse condo in Hallandale, Florida.
It would take volumes to write about my brother's love, concern and generosity, so I'll skip the wonderful yet unbelievable stories, and just say thanks, Giovanni, and you KNOW I love you. You are WOW.
My cousin, Franco Colombo, a fantastic chef and restauranteur from Rimini, Italy, was visiting too. When Franco visited Montreal in October 2002, I said, "God willing, if you go to Florida, I will come too". Well, against all odds, and despite major obstacles, I can tell you that God was willing, and it happened.
Franco went in December 2002, and I went on January 2nd 2003. We spent 2 great weeks laughing, talking and going out grocery and other kind of shopping in my brother's Mazda Miata. It turns out we listen to the exact same songs first thing in the morning: "Nessun Dorma" and "Va Pensiero" Coincidence? A big one, I'd say. The last time I saw Franco before those two days in October 2002, was for a few days in 1975, when I went to Italy with my family. At that time, I was 16 and Franco was 19. But it was his beautiful little brother of 14, Nicolino, a redhead like me, who fell in love with me, and we spent lots of time together on his motorino (motor bike), going all over Bonefro. I only saw Nicolino one more time in Florida in February 1992, when we both visited. I left only 3 days after he arrived, but we still had a great time. Nicolino died on November 10, 1996, a month before he was 36. I can't even think about it, because to me, he's always alive. So, as far as I'm concerned, Franco is Franco, Nicolino, and the whole Italian Colombo family rolled into one. And the voice was full of real family love.
I also heard the voice of Elsy, my brother's better half. She's a saint. From the moment we met, it felt like we knew each other forever, and we got along great. But more importantly, she and my brother are good TO and FOR each other. They've only been together for about a year, but I told everyone she was my sister-in-law for over 20 years. At first we all laughed, but it seems absolutely real. Some things are just too mysterious to explain.
Then I met Melfi, "the smartest and friendliest parakeet in the world". He's my brother's addition to the family since November 2002, and as he says, his only son and heir. He has a lot to say, and a lot to sing about.
Lucky Melfi! No one would have believed it, but he already took over my brother's home, just like my my cat Deeva, my only daughter and heir, took over mine in October 1983.
So, altogether, we had an amazingly fun time. Picture this: my brother Giovanni, his lady Elsy, my cousin Franco, Melfi the genius parakeet, and me...all together for 2 weeks. It was a real life comedy show.
I was spoiled silly. For 2 weeks in January 2003, from the 2nd to the 16th, I listened to and saw ONLY good, regardless of what was going on in the world.
The only sad news that "slipped", because of its sheer unavoidability, especially in South Florida where he lived, was the death of Maurice Gibb, on Sunday January 12, 2003. The Bee Gees were formed by brothers Barry, born September 1, 1946, and the twins Robin and Maurice, born December 22, 1949. They were legends in their own time for 45 years.
Everybody thinks of Saturday Night Fever and Staying Alive when they think of the Bee Gees. I remember dancing all night to their songs at the Altithèque 747 in Place Ville Marie, The Club 21, September's, and many other discothèques in Montreal in the late 1970's.
However, as far as I am concerned, I "met" the Bee Gees well before that, in July 1975, in Italy. My Italian friends during my visit absolutely loved songs like "I started a joke", "Massachusetts", "How can you mend a broken heart?" and many other Bee Gees classics. I danced to a medley I mixed for dance class, and naturally the Bee Gees were included. Indeed, it was WAY before they became known as the "Disco Kings".
The following are snippets from various articles found on the internet, all duly credited.
---
"Maurice Gibb Was Right; Bee Gees More Than Disco Kings"
by RENEE GRAHAM
THE BOSTON GLOBE
http://www.sltrib.com/2003/Jan/01152003/wednesda/20267.asp
"With Barry and Robin switching off on lead vocals and Maurice (pronounced Morris) providing backup vocals, bass, and keyboards, the English-born, Australian-raised brothers sold more than 120 million records. With luscious harmonies rivaling the Beach Boys', coupled with the keen pop sensibilities and craftsmanship of their idols, the Beatles, the Bee Gees, beginning in 1967, racked up more than a dozen Top-40 hits before "Saturday Night Fever."
"The Bee Gees were inducted into the Rock and Roll Hall of Fame in 1997. It was deserved and long overdue. What sustained the Bee Gees was not a fad or trendy moment, but a 40-year career filled with perfectly crafted pop songs that sound as exciting and fresh now as they did the day they were released. And though he will be missed, Maurice Gibb fortunately lived long enough to see the tide of popular opinion again turn in the Bee Gees' favor, as they are now hailed as more than just the kings of disco."
---

"No popular music act of the 1960's, 1970's, 1980's, and 1990's experienced more ups and downs in their popularity than the Bee Gees, or drew more of a varied audience. Beginning in the middle-late 1960's as a kind of Beatles-lite ensemble, they quickly developed as songwriters in their own right and perfected a strange mix of progressive-pop music. Then, after hitting a trough in their popularity in the early 1970's, they reinvented themselves as perhaps the most successful white disco act of the decade, only to see their own popularity disappear along with the dance beat they championed; and they have since made a successful comeback in virtual every corner of the globe except the United States. What has remained a constant through their history is their extraordinary harmony singing."
---
Carmen, continued...
The Bee Gees had the "Golden Touch" Whatever they did became an instant hit. I remember that they were among the first to give all the proceeds of a song they wrote especially for a charity: their 1978 chart topping hit, "Too Much Heaven".
The Bee Gees gave a concert in Montreal on September 1st 1979, the same day that I got married. I often said that I should have gone to the concert instead, and avoided a great amount of ordeal. But life has a sense of humor, and my record-breaking 5 month marriage at the time stirred things up in the Italian Community. I find it all hysterically funny now, but it certainly wasn't funny back then.
In any case, it seems that the Bee Gees music always was a part of my life. One of their later songs, "Alone" showed once again why they are so great - their lyrics and music are timeless. Every song is familiar, yet as fresh as if you just heard it for the first time. These are the Bee Gees I know, and Maurice was one of the constant friends in my life, having been a Bee Gee for longer than I had been alive. For every part of my life, I can remember a Bee Gees song in the background.
So, this is my tribute to Maurice Gibb. It may not the best you've read, but it comes from my heart. His loss is as painful for me as was the loss of Freddie Prinze from "Chico and the man" in 1978, John Lennon in 1980, Freddie Mercury from "Queen" in the 1990's, George Harrison in 2001 and so many more talented beings, including the king of kings, Elvis Presley, in 1977, and La "Divina" Maria Callas in 1978. Because I grew up with them in the background of my life, they are my "friends", and their loss is painful. However, as I always say, people live as long as they are remembered. These, and too many more both "background" and real life family and friends who passed on, are alive to me every time I think of them.
All of us at WOW Zone wish to extend our deepest condolences to the entire Gibb Family, especially Robin, Maurice's twin, and Barry. I know from having friends who are twins that they have a special connection, and that losing a twin is probably as traumatic as losing a child.
As for Maurice, WOW to you, dear friend. Rest in Peace. Be happy. You helped so many people learn about love, and it's all coming back to you.
January 2003