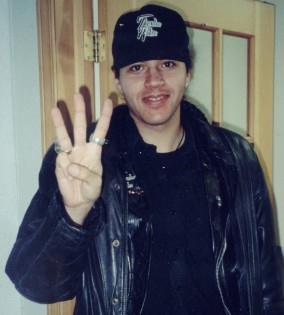 WOW from John Blackwing - Thunder Rider
The first time that I saw John, I was pleasantly surprised. What I always found most admirable in anyone is gentleness and politeness, and John has enough to spare. It's so refreshing!
He offered me coffee and muffins while told me about his band, Thunder Rider. He gave me his CD "Tales of Darkness & Light", and while he was making coffee, I read some of the lyrics. They were the furthest thing from what I had imagined. They spoke of hope, peace and love in a world without hate and prejudice. Definitely a WOW selection!
John makes me smile every time I see him, because since he got the WOW Pin, he wears it ALL the time. He told me lately that his band is most popular in Greece and Germany. What a wonderful success for this great Canadian band!
Visit Thunder Rider, the official website of John's band to keep up with their latest news.