WOW on the Radio!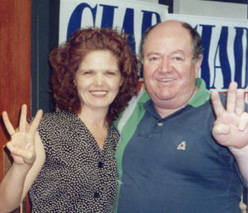 On Sunday June 11th, 2000, from 5:30 to 6:30 PM, I was the guest of Fr. John Walsh on CJAD 800 AM Radio in Montreal, Quebec, Canada.
It was a fabulous experience and I'd like to give you my impressions of that great hour on the radio when Montreal finally had a taste of WOW!
As anyone who visits WOW Zone knows, it takes much more than an hour to even skim its surface. However, Fr. John went straight to the heart of it and even put an interesting spin to it by posing the question to our live, call-in audience: "Did you ever have a WOW Experience - something in your life that really moved you?".
Indeed, there are millions of stories out there, but we only had the chance to hear a few because of the time limit. Nonetheless, what we discovered, once again, is that people really DO want to hear and share good news, hope, and goodwill. People really DO want to help and care for one another.
As far as I'm concerned, I couldn't have been on a better show to launch WOW in Montreal. Father John is loved, admired and respected by everyone in the community, and for good reason. His warmth, kindness and generosity of spirit are the stuff that heroes are made of.
With a send-off from a man who truly walks the talk, I can only say...WOW!
---
Sunday August 19, 2001
The Father John Walsh Show on Sunday August 19th went very well. Ying Zhu and Jennifer Nadeau talked about the Falun Gong crisis in China from 5:30 to 6:30 and there were several calls from listeners and other practitioners. The goal was to get the word out as much as possible to the global community, in order to help stop the persecution, torture and killing of peaceful people in China.

Some callers talked about the benefits that Falun Gong has brought into their lives, such as peace of mind and physical well-being.

Our section on Falun Gong has stories and links for more information, and the Open Forum is updated by Ying, Jennifer, and many others who are very involved in the SOS Falun Gong Campaign. Check it out at http://www.wowzone.com/falungong
Then, from 6:30 to 7:00, Father John and I talked about WOW Zone to update the Montreal listening audience on what we've been up to in the last year since I was on the show. All around, it was really great and I discovered that I really like doing radio. Maybe that will be in our future plans...

WOW to all,

Carmen
WOW Zone
http://www.wowzone.com
The Father John Walsh Show
CJAD 800 AM Radio in Montreal, Quebec, Canada.
Every Sunday; 6:00 to 7:00 PM

The Father John Walsh Show is your chance to connect with local heroes, and throw a pitchfork at local villains. Father John's weekly Halos and Pitchforks feature is your chance to spread the word about the little people who deserve the attention...for better or worse.

Father John's show will inspire you, entertain you, and otherwise make the perfect way to start winding up your weekend.

(from the www.cjad.com website)