Meeting John McConnell

On Saturday March 20 1999, after several months of regular correspondence over the internet and telephone, I met John McConnell, Founder of Earth Day, in person. That evening, I was one of his guests at the United Nations in New York, where the Peace Bell was rung at the precise moment that spring arrived.
John and his wife Anna graciously offered me their hospitality and together we also celebrated John's 84th birthday on Monday the 22nd.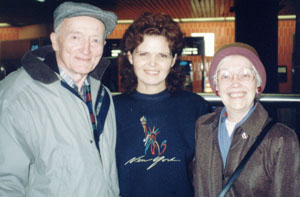 The time we spent together was nothing short of magical. Being in their home, having conversations with the man who had met many of this century's prominent personalities and who was responsible for helping to end the cold war, touched me in ways I can hardly describe.
It was truly a gift and I will try to recapture the days I spent with one of this planet's most fascinating man: John McConnell.
I arrived in New York City at 7:00 AM from Montreal. I toured the Big Apple by myself the entire day, and I have to say, despite what I heard in the past, New Yorkers were some of the friendliest people I've come across. I felt perfectly safe and it was a terrific day.
I headed for the UNICEF Building for Earth Society Foundation Reception and Award Ceremony at 6:00 PM. I was chatting with other guests when I saw John McConnell. I went to him and said, "John is that you?" He looked at me, and I introduced myself. He lit up. We hugged and he took my hand and led me into the Award Reception Hall, introducing me to everyone. We finally found Anna, his beloved wife, among all the people. She was wonderful and we hugged as well. From that moment on, the three of us were inseparable.
The Ceremony was beautiful. The Ambassador of Iran spoke, and said that their New Year began on the spring equinox as well, and they wished to adopt the Earth Trustee Agenda. Other dignitaries were there, from the Ambassadors of Austria and Guinea, to representatives of Amnesty International and the Sea Shepherd Conservation Society.
Entertainment included a children dance group, a Chinese dancer, a Moroccan group of drummers and dancers, and more. Alexandra De Nigris, a bright and beautiful 14 year old student from Bethel, Connecticut was the winner of the Earth Day essay contest. She read her excellent essay describing what it means to be an Earth Trustee.
At 8:20, we started to walk towards the United Nations Building where the Peace Bell is. Lama Ganchen from Tibet and Father Ignacio Harding of Franciscans International both prayed for peace and harmony, and at 8:46 PM, at the precise moment of the spring equinox, they rang the Peace Bell together. At that same moment, the Peace Bell was ringing everywhere around the world.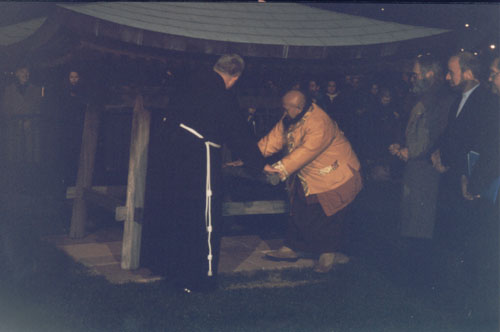 Father Ignacio Harding of Franciscans International (left) and Lama Ganchen from Tibet ringing the Peace Bell.
Since our meeting, John and I realized that there are many things that we agree on. In addition to joining forces to spread our messages, I became the pro bono webmaster for the Earth Day site www.earthsite.org.
Be an Earth Trustee every day and Wish Only Well.
Respect the magnificence and diversity of life. Care about yourself, others, the world. Be WOW!

Carmen Colombo
WOW Earth Trustee
March 26, 1999