November 1999
For at least two years now, I receive letters on a regular basis asking about WOW on cars. It appears that WOW is written on cars and trucks all over the New York and New Jersey area. WCBS Radio in New York called me in May asking if I was telling people to do this. I said I had received several letters asking me the same thing, and that I do tell people to spread WOW, but I never told anyone to do that. The letters keep coming, but no one knows what this is about. Do you? If so, please let us all know!
What can we say about November? The best thing about it, in my opinion, are the beautiful bright red poppies everyone wears. I wish we would wear them all the time because they look so cheerful. If it weren't for the poem In Flanders Fields written by Canadian Colonel John McCrae during WWI, we would never know that they're in memory of all who paid the ultimate price for our freedom. November 11th is Rememberance Day in Canada and Veterans Day in the USA. Take the time to stop on the 11th hour of the 11th day of the 11th month...to remember and pray for all who died that we may have freedom and democracy.
Read the new article by John McConnell, founder of International Earth Day called Looking Ahead. It tells of November 11 as an important date in history - past, present and future. It also addresses the issue of social economic justice.
I live in Canada, and many statistics say that it's the best country in the world. But just like in your country, wherever you are, Canada has its problems too. I've never seen as many panhandlers and homeless people as there are now on the streets of Montreal in the over thirty years that I've lived here. I don't even want to think about spending a few minutes outside during our long, harsh winters when the temperature dips to well below freezing, never mind the night - as so many do. More and more organizations are trying to help, but there have to be better solutions than handouts and temporary shelters. Education, in many different forms, is essential. There is no excuse for what is going on right now in our world. There should be enough for everybody - because we are all children of the earth, and the earth is full of resources.
November 9th marks the 10th anniversary of the tumbling of the Berlin wall. I have a little piece of it that was given to me by someone who helped break down the wall. It's just a broken piece of cement, but it symbolizes freedom - and holds the hope of millions of people.
Happy Thanksgiving to all our American friends on the 25th. In Canada, we celebrated it last month, and the turkeys are still nervous. Spare a life this year...get creative for your Thanksgiving dinner! Start a new trend where no one at the table is sacrificed.
WOW Zone's parent company, Wish Only Well Communications Inc., launched its new WOW Web World Services. Check out our great deals for your website solutions.
Next month is Christmas and the month after that we step into the 00's...oh my!
Wishing only well,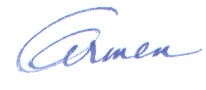 Carmen